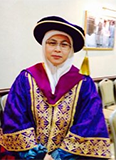 Prof. Noor Maizura
Mohamad Noor
Universiti Malaysia Terengganu, Malaysia
My recent research work focuses on improving organizational decision-making practices using technologies. This includes research interests in the design, development and evaluation of decision support systems for analyzing and improving decision processes. My research interests also focus on the areas of computer science, intelligent decision support system, clinical decision support system, and information system.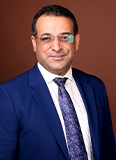 Assoc. Prof. Hamed Taherdoost
IEEE Senior Member
University Canada West, Canada
Hamed Taherdoost is an award-winning leader and R&D professional. He is the Founder of Hamta Group | Hamta Business Corporation and Associate Professor at University Canada West. He holds PhD of Computer Science from Universiti Teknologi Malaysia, Master of Computer Science (Information Security), and Bachelor degree in the field of Science of Power Electricity. With over 20 years of experience in both industry and academic sectors, Dr Hamed has established himself as an industry leader in the field of Management and Information Systems.
Dr. Hamed has been a part of many important breakthroughs in IT and industrial projects. He specializes in Information Technology Management, and Research & Development. He started his career in 2001 as an electrical designer and programmer in Tablokar, a leading switchgear panel manufacturer in the Middle East. He has subsequently worked at international companies from Cyprus, the UK, Belize, Iran, Malaysia, and Canada and has held positions as varied as Project Manager, R&D Manager, CTO and CEO.
He is a Senior Member of Institute of Electrical and Electronics Engineers (IEEE), Senior Member of International Association of Electrical, Electronic and Energy Engineering (IAEEEE), Senior Member of International Academy of Science and Engineering for Development (IASED), Senior Member of International Economics Development Research Center (IEDRC), Senior Member of the Hong Kong Society of Robotics and Automation (HKSRA), Working group member of International Federation for Information Processing – IFIP TC 11 – Human Aspects of Information Security and Assurance and Information Security Management, Member of Cyber Security & Information Systems, Information Analysis Center (CSIAC), Association for the Advancement of Sustainability in Higher Education (AASHE), American Council for Technology – Industry Advisory Council (ACT-IAC), European Alliance for Innovation, Informatics Society, Society of Computer Science, American Educational Research Association, British Science Association, American Association for Science and Technology, IEEE Cybersecurity, IEEE Cyber Ethics and Cyber Peace, Institute of Doctors, Engineers and Scientists, Computer Science & Information Technology Community, Risk Management Society, Science and Engineering Institute, Science and Information Organization, Institute for Engineering Research and Publication, Information Systems Security Association and many other professional bodies.